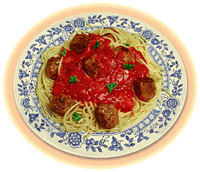 Now that you've moved in and made new friends, it's time to buckle down to life. That means saving money and keeping yourself alive.
For these two reasons, we would recommend that you don't just eat takeaways. As nice as they are, they're a sure way to spend valuable (beer) money and you'll become skint very quickly. The best, responsible, thing to do is to learn to cook the basics (pasta, beans on toast, even curry isn't that difficult).
Home-cooked food is cheap, and can be very tasty. It also impresses mates, in both senses of the word. I'm not going to bore you with recipes, but your cupboard should include the following:
rice
pasta
tinned tomatoes
baked beans
oil
chilli powder
salt and pepper
tea and coffee
sugar (even if you don't like it)
mixed herbs
perishables like bread, milk, cheese, fruit, veg.
From these few basic items, you can create some decent dishes (If you're a trained chef you'll be very popular). Just remember that when you go food shopping, don't do it on an empty stomach, or you'll end up with crisps, chocolate, which is fine but you'll have spent a lot more money. Buy in bulk if you can, as this is cheaper. And make sure you do get the essentials (vitamins and minerals), as this'll keep you healthy enough that you can enjoy life as much as possible.
With regards to money, banks will be your support system for the whole of your time as a student (and beyond), so read what they've got to offer and don't just sign-up to the one that flashes the most cash at you.
Student loans are tempting, and undoubtedly you'll need to get them, just don't spend it all at once, you'll need it at the end of term when money is really scarce.
Another way to get money is to find a job (you work-shy fop). If you think you are going to need a job when you're at Uni, then be warned, the best jobs naturally go early. Bar work is easy to get, you don't need experience, but the pay is low, the hours long, and the work hard. Nevertheless, if you need a fast buck it is ideal, as you get paid quickly and there is plenty of work on offer.
Click here for freshers' week tips
Click here for student accommodation advice
Click here for the Golden Rules of student life